Creating a survey can be a daunting challenge, especially when starting from a blank page. Thanks to the integration of artificial intelligence ChatGPT into Drag'n Survey, survey creation is easier and faster than ever before. With this strategic partnership, Drag'n Survey is revolutionizing the survey creation experience.
Discover how this integration simplifies and accelerates the design of your surveys while providing an optimal user experience.
>> Create an online survey with ChatGPT, click here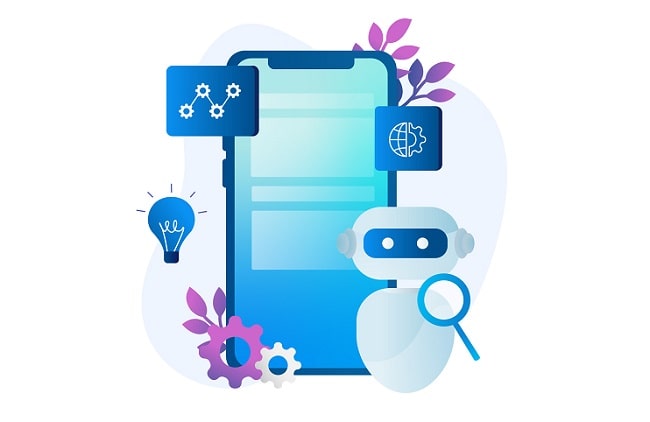 Creating an online questionnaire with ChatGPT AI
When creating a survey on Drag'n Survey, you can now choose the "with AI" creation mode. This mode allows you to harness the power of ChatGPT to design surveys tailored to your needs without the need to create them manually.
You can also create a survey from scratch or use a template designed by Drag'n Survey.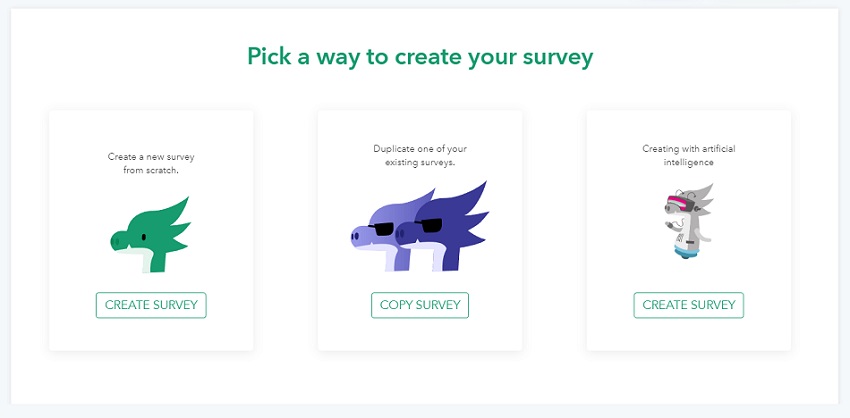 Specify your expectations and let ChatGPT do the work
Once you have selected the "with AI" creation mode, all you need to do is specify what you expect from the online questionnaire. Inform ChatGPT about the topic, target audience, and objectives of your survey. OpenAI's AI takes care of the rest. In just a few moments, a personalized and tailored survey is created to meet your needs.
For example, it is possible to integrate a training support so that the Artificial Intelligence suggests a quiz to assess knowledge acquisition.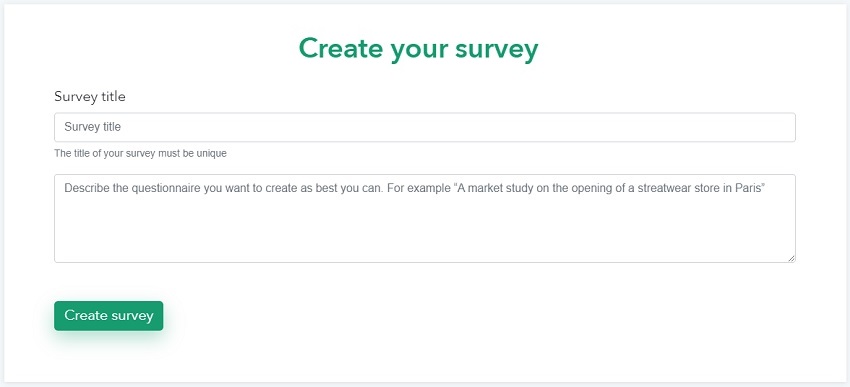 The benefits of integrating ChatGPT into Drag'n Survey
The integration of ChatGPT into the online questionnaire software Drag'n Survey brings several advantages. Whether you are an individual, a company, an HR department, or a training organization, Artificial Intelligence accompanies you in building your surveys.
No longer start from a blank page
Thanks to ChatGPT, you no longer need to spend hours thinking and structuring your questionnaire. Artificial intelligence provides you with a solid and tailored starting point.
In fact, the description of the survey to be created can be very comprehensive. For example, it is possible to enter a company's regulations to create an HR questionnaire or a quiz for employees.
Time-saving
Creating questionnaires can be lengthy and tedious. The integration of ChatGPT allows you to save valuable time by automating this task.
Indeed, OpenAI's AI has been trained on the Drag'n Survey model. This ensures that the survey follows the structure provided by the application while incorporating the available question types.
Flexibility
If you are not satisfied with the generated survey, you can easily modify your instructions and ask ChatGPT to create a new survey based on your new requirements.
The description can be very comprehensive as it is possible to provide the equivalent of six Word pages in the description.
Quality of surveys and collected data
ChatGPT is a powerful tool that guarantees coherent and relevant surveys. The goal of Drag'n Survey is to enable you to collect reliable and actionable results for your surveys.
Conclusion
The integration of ChatGPT into the Drag'n Survey online survey solution is a true revolution in the field of surveys. By automating the creation of questionnaires through artificial intelligence, you save time, gain flexibility, and collect high-quality data.
So, don't wait any longer and try out this revolutionary new feature now.
More about surveys:
Find an alternative to Google Forms, click here
Compare Typeform and Drag'n Survey software, click here
Find differences between Drag'n Survey and SurveyMonkey, click here
Read the article:
Portuguese – Crie uma pesquisa online com o ChatGPT, click here
German – Erstellen Sie eine Online-Umfrage mit ChatGPT, click here
French – Avec ChatGPT, Drag'n Survey révolutionne la création des questionnaires en ligne, click here