Understanding the aspirations, desires, and needs of your customers and prospects is an essential step for businesses looking to increase their revenue. This is where surveys come into play, providing clear and concise data to comprehend the aspirations of your target audience.
In a constantly evolving digital world, there are numerous tools available for creating, distributing, and analyzing the results of your surveys. In this article, we present a list of 9 tools, helping you determine the best free online survey tool for your business.
>> Discover Drag'n Survey software for creating an online survey – click here.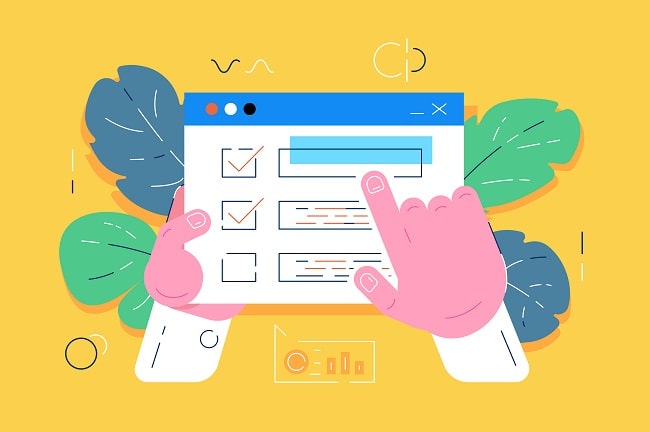 1. Drag'n Survey, the simplest software on the market
Drag'n Survey is an online survey solution entirely created and managed by an international team. It is a practical and efficient tool that allows you to create satisfaction surveys, questionnaires, or quizzes in just a few clicks. Its main strength lies in its ease of use. Creating your survey is done through a "drag-and-drop" system.
Easy to use, but also rich in features, Drag'n Survey offers the possibility to customize questions, integrate your logo, and process the results in real time. Furthermore, the software guarantees the complete confidentiality of respondents. Whether you are a company looking to better understand your customers or an individual curious to know what your friends think of your latest party, Drag'n Survey will meet your needs.
2. Google Forms, a free American software
Google Forms is a free and user-friendly online questionnaire creation tool. It offers a wide range of question formats, from multiple-choice to open-ended questions. The solution allows you to design surveys, polls, and registration forms. Moreover, Google Forms' user-friendly and intuitive interface greatly simplifies the creation of customized questionnaires, even for users unfamiliar with this type of tool.
Google Forms also enables you to collect and analyze responses in real-time. As soon as a respondent submits their answers, they are immediately available to the form administrator. Furthermore, the responses can be visualized in the form of graphs, making analysis and interpretation easier.
In summary, Google Forms stands out for its ease of use, flexibility, and ability to provide real-time responses. It is an essential tool for anyone in need of collecting information quickly, efficiently, and systematically.
3. SurveyMonkey, an American Freemium Solution
SurveyMonkey is an American software. It is well-known in the market for its suite of analysis tools that allows in-depth study of the responses received. Thanks to a user-friendly interface, it is possible to conduct in-depth analyses without having specific knowledge in statistics.
Whether it's analyzing demographic data, responses to open-ended questions, or long-term trends, SurveyMonkey's tools are capable of doing all. They provide summary charts and graphs that make it easy to visualize the results of your surveys. The goal is to make data accessible and understandable.
SurveyMonkey enables users to make informed decisions. Be it conducting a market study, evaluating customer satisfaction, or carrying out an opinion poll, the analysis tools provide you with the necessary information to set up action plans. Each piece of data collected can thus be transformed into useful insight, enabling you to carry out your projects successfully.
In short, SurveyMonkey offers a powerful data analysis solution, capable of helping you understand and maximize the responses you receive. However, SurveyMonkey is one of the most expensive solutions on the market.
4. Typeform, a Design Solution
Typeform is an online tool that allows creating interactive and personalized questionnaires. Thanks to its user-friendly interface, the creation of questionnaires becomes an easy and intuitive process. The platform offers a variety of features designed to make surveys engaging.
Personalization is one of Typeform's strengths. The tool allows you to change colors, upload your own images, and even direct respondents to different parts of the survey based on their previous answers.
Furthermore, Typeform's user interface is designed to be easy to use. The platform offers smooth navigation, clear instructions, and easily accessible customization options. This makes editing your questionnaire not only easy but also enjoyable.
Typeform is therefore an ideal solution for those looking for a friendly and efficient way to create questionnaires. However, like SurveyMonkey, the solution is accessible for a relatively high cost compared to the Drag'n Survey software.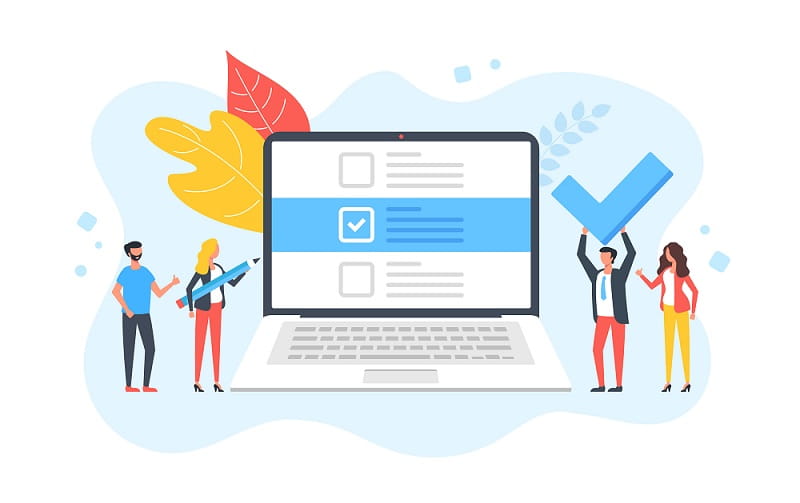 5. JotForm, a 100% American Solution
JotForm is a flexible tool, offering a variety of options to create online surveys. The application features an intuitive user interface and integration capabilities with numerous tools.
The American software also offers automation features, payment collection capabilities, and numerous form templates to meet all kinds of needs. The flexibility of the tool makes it attractive to businesses of all sizes and sectors.
Additionally, the application offers both free and paid options. This provides every business with the opportunity to find an offer that suits its needs and budget.
In short, JotForm is a comprehensive solution for creating, distributing, and analyzing online form data.
6. Microsoft Forms
Microsoft Forms is a tool for creating surveys in a simple, fast and efficient way. An integral part of the Microsoft 365 product range, it allows for conducting surveys, tests, as well as creating registration forms.
Microsoft Forms is designed to be intuitive to use. The interface offers numerous customization options, ranging from color choices to the questions to be asked. Indeed, the application offers several types of questions, such as multiple choice, text field, or rating scale.
Microsoft Forms is an ideal solution for creating interactive surveys. It is both suited for the needs of the general public and professionals. Plus, it offers a pleasant user experience.
7. SurveyLegend
SurveyLegend is an intuitive platform that simplifies the process of creating questionnaires. Thanks to its user-friendly interface, even the least tech-savvy users can easily navigate and create personalized surveys.
With a substantial number of questionnaire templates, the application is attractive to users who wish to save time in the design of their survey.
Moreover, it is possible to customize the templates made available by the software. In this way, the user can add questions, delete or modify them. Therefore, the final poll is tailored to the needs of each user.
8. SoGoSurvey
SoGoSurvey is a platform recognized for its wide range of features. The solution offers a multitude of customization options. Further, it provides numerous types of questions and pre-set survey templates. Users can thus create visually appealing surveys that correspond to their brand identity.
The SoGoSurvey software also allows analyzing the collected results. It's possible to filter, sort, and segment the data according to various parameters to obtain precise and useful insights.
Therefore, SoGoSurvey is a survey solution that offers a significant variety of features. In addition, its user-friendly interface simplifies the survey creation process.
9. QuestionPro
QuestionPro is a versatile software. It offers several options for creating personalized questionnaires. Its flexibility in designing surveys allows users to create surveys that reflect their brand image.
Indeed, this tool offers the possibility to customize colors, fonts, as well as the logo. In addition, the solution provides real-time responses.
Conclusion
The tools presented in this article are ergonomic, easy to use, and can especially deliver structured data. They allow you to efficiently collect all the information you need to propel your business towards new horizons.
Choosing a tool can however be a daunting task. That's why this analysis of the top 9 free online questionnaire software will help you to make an informed decision.
More about surveys:
Questions not to use in a survey, click here
Create a simple online survey with ChatGPT, click here
Collect information from employees using the survey, click here
Read the article:
French – Quel est le meilleur questionnaire en ligne gratuit ? click here